The new year is flying by already. It feels like I just posted my mileage wrap up for the year just yesterday, but 10 days has gone by already.
MONDAY:
5

mi
00:43
08:30 pace
Later that same day of my last post, Monday January 2, we left on a 6 day cruise with planned port visits of Key West, Belize and Cozumel. The cruise started out of Tampa because the boys had seen the ships leave from there when we visited the aquarium, Thomas requested a cruise that stopped in Key West, Andy was ok with anything. The day started out a bit windy and cool with a smooth slow ride through the ship channel, then through Tampa Bay on the way out to the Gulf.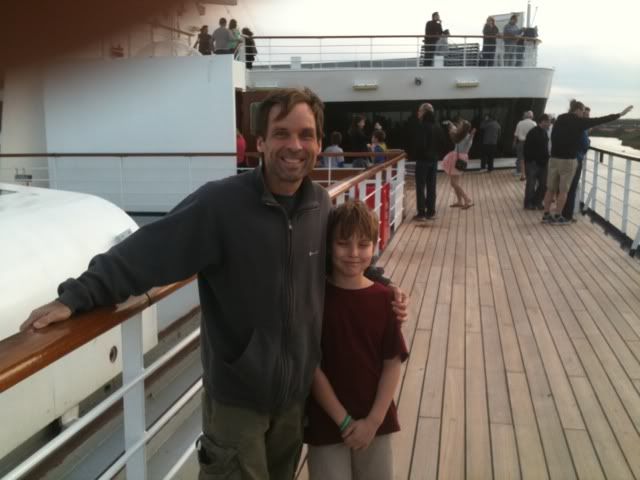 12th Deck of Ryndham
TUESDAY:
5.54

mi
00:46
08:18 pace
The treadmill wasn't too bad. The ship was rocking but I soon forgot about it.
We were supposed to spend some time in Key West, but as we were getting ready to pull in, the captain announced that due to the wind we would not be able to dock there. We were close enough to land to get cell service so I had a little bit of time to check my email while we were in sight of where we were supposed to go.
The ship continued to pitch and roll and I was mostly ok, until later that night while at dinner (which Jenny and Thomas were unable to go to due to not feeling well) it finally got to me and I had to excuses myself before the main course, although Thomas was fine and ate all of his dinner (salmon).
WEDNESDAY:
no running
This day was scheduled as an at-sea day. I did not run. After breakfast at the buffet with the boys I figured I had better get signed up for our tours, especially the zip lining in Belize. I was way too late, it was all filled up and I was totally bummed out (no one else was happy either) that I had procrastinated and let everyone down. I often get away with procrastinating and in some rare circumstances it often works out for the best. Maybe not so much this time (although you never know). Jenny suggested I look for my Dad to see if he had signed us up since he talked about doing the zip line tour. I called him and left a message then went to go look for him. I wandered the ship a bit and stopped back by the tours desk to see if he had signed us up - nope. I eventually ran into my Mom in the library, then my Dad showed up, too. We stopped back by the tours desk and talked to the travel agent about some other options as well as things to do in Cozumel. I spent way too much time doing this and worrying about it. Eventually, found Jenny and the boys again. Andy said he was interested in Cave Tubing in Belize and Rock climbing/ropes course/snorkeling trip in Cozumel. So, after worrying and wracking my brain, the actual answer took all of five minutes.
Thomas with anchovy at Lido buffet
THURSDAY:
no running
This was port visit to Belize day which we would be doing the cave tubing tour. I didn't bring my camera (phone) due to too many unknowns (in hindsight a disposable waterproof camera would have been perfect).
So, I'll just post some stock pictures of Belize cave tubing
The water was cool but not cold or freezing. It was also clean and clear. Inside of the cave was dark but we each had hardhats with lights. A guide had us link up our tubes then steered us through the river as it went through. There was a nice 25-30 minute hike to the start of the tubing part which went through the rain forest.
After the tubing, was a decent lunch and then the bus trip back (about an hour and a half). The bus trip out included some commentary from the tour guide with many jokes, some of which weren't that funny, especially for a first time visitor to Belize - such as saying that we needed our passports on us, telling one passenger they weren't coming back, and the description of the Belize prison that we drove by. Ok, they weren't that bad, but also weren't the best.
FRIDAY:
7.24

mi
01:02
08:29 pace
Our excursion into Cozumel was not until 1:00 p.m. and since I was up pretty early I decided to run a little bit longer. So, this would be my long run for the week.
Today was probably the best day of the cruise. We met up on the pier with the group (our ship, the Ryndham at 55,000 tons looks tiny next to the Carnival Magic docked next to us)
and took a short, 20 minute ride to a place on the water that had rock climbing walls, rappelling, rope bridges, and then snorkeling. It was very well organized and the staff kept you moving the whole time.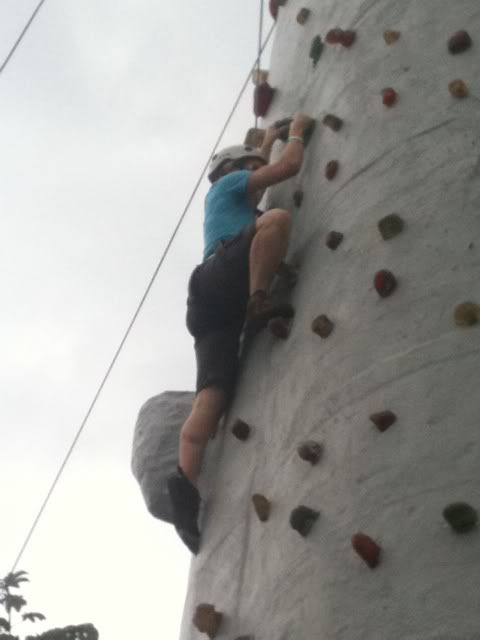 After the climbing stuff there was a snorkeling portion where we saw lots of fish.
Also included, was a drink at the bar/restaurant on the beach.
Then, back to the ship.
SATURDAY:
6

mi
00:47
07:54 pace
I woke up pretty early again, or so I thought. Clocks went back to Eastern time so I started my run at 7:00 instead of 6:00. I picked up the pace a few times so the average was a little higher.
This was an at sea day. Did some swimming in the pool, watch "Return of the King" to finish up the Lord of the Ring movies, played Scrabble with Andy, Thomas, and my Mom - and Thomas won (his first time ever playing).
For dinner, we ate together in the dining room, the 4 of us and my parents at the same table. Baked Alaska for dessert (my first time ever having that).
I set an alarm to wake up the next morning at 6:00 so we could have breakfast and get off the ship at 7:45. Just one slight problem. When my alarm went off, we were not near shore at all. I thought we would be close since it takes a couple of hours to go through Tampa bay, up the ship channel and dock. Oh, well. I got into the shower, showered, then Jenny got in. I soon realized that my phone had switched to GMT (5 hours early) due to picking up the "Cellular at Sea" signal. Knocked on the bathroom door to tell Jenny the bad news. Tried to get back to sleep, but neither one of us had much luck.
SUNDAY:
no running
Disembarking went smoothly because Jenny had signed us up for the express disembarking, pretty much just walk right off the ship. Customs were easy, and we got our car quickly and drove home through the very light early morning Sunday traffic.
The last and most important part of the trip: Picking up Sammy from the kennel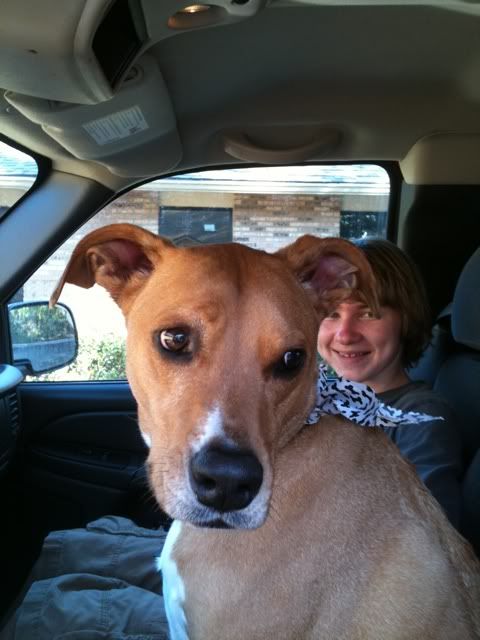 Back to work!
Keeping the running fairly low key this week -
Monday - 7.5 miles (7 at the Y plus another 0.5 at Jenny's boot camp)
Tuesday - 6.3 miles easy
Wednesday - 5 miles easy (just missing the rain, warm and breezy morning)
Thursday - 6 miles, a little faster (8:05 pace)
CROOM ZOOM 50K this Weekend (SUNDAY)
My first 50K race
will be this Sunday and it will be my first big trail race ever. Jenny asked what my goals were and I really hadn't thought too much past wanting to run at a faster pace than my practice run up there a few weeks ago. Anyway, since I'm not used to paces vs. finish times for a 50K I wrote a few down that are within my realm:
4:15 - 8:12
(pace) - I think I'd really have to be feeling great, would need a good number of sub-8:00 miles
4:30 - 8:41
(pace) - This one is a little more attainable but still very challenging
4:45 - 9:10
(pace) - I'm pretty sure I can do this one, although on my practice run, the 9:00 miles towards the end felt challenging, but that had been a long day
5:00 - 9:39
(pace) - I should really try to break 5 hours, otherwise I'm not sure if I'd feel like I put in what I was capable of
5:15 - 10:08
(pace) - still a faster pace than what I did the training run in, I guess I'll save this one in case things aren't going well because if it turns sucky it helps to concentrate on a goal to help keep going, hopefully it won't turn sucky. I'm pretty sure it won't.
Just finish it.
Hopefully it won't come to this but if it does then it does and I am going to finish it!!
The race will start at 7:00 am so I shouldn't need to wear a light. At one point, it looked like they were going to change it to 6:00, but then they decided to allow either start time - 6:00 am to start with the 100K racers, and 7:00 am to start with the 25K racers. Jenny and Sean are going to get there early and start at 6:00, and I'll get there a little bit later to start at 7:00.
I'm not too nervous about this race because I can't afford to worry, since the 100K is coming up in just one month - that's the one I'm worried about! (but not too much because it almost seems surreal - i.e. I'm not getting my head wrapped around the distance).